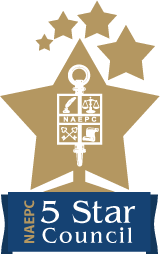 Northwest Washington Estate Planning Council is an interdisciplinary organization for persons involved professionally in estate planning in northwestern Washington. Our Estate Planning Council is excited to have been named a 5-Star Council by the National Association of Estate Planners & Councils for 2017, our second year in a row!
The mission of the council is to provide quality education for its members; to enhance understanding of the various professions represented by the council; and to foster collegiality among its members.
Disciplines represented in the Council include trust and financial advisors and planners, insurance professionals, trust officers, attorneys, accountants, charitable organizations, and other persons engaged in estate planning.
As always, a first-time potential member guest is most welcome - please let us know so they may be warmly greeted. If you are or have a new applicant for membership or any membership questions, of course, feel free to contact any of our Board Members. The RSVP link is perfect for input of guest information.